Halloween Town - 2017 - Headless Horseman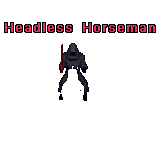 The Headless Horseman is one of the Halloween Town Boss located in the Crypt, in Basement of Crypt there's 3 different entry to enter in Asylum Area, go inside Asylum, walk to the Courtyard of Asylum!
Location
He's located in the Courtyard of Asylum!
Loots
2017
After Change Loot:
- Wyrm's Heart
- Harpsichord Deed (random - 10 different color)
- LToT (random)
Previous Loot:
- Sands of Sosaria
- Wyrm's Heart
- Tall Lamp
- Staff Members Heads (random - in corpse - Admin Eos, Admin Larson, Admin Styx, Seer Selene, GM John, GM Tetra, GM Fethers)
- ML Arty (random)
- Gold Rain
In 2016 & 2015, the Headless Horseman was the Special Champion Spawn!
2016
- ?
2015
- Staff Members Heads
- Candy
- Shadow Banner
- Broken Vanity
- Broken Chest of Drawers
- PS 110 (random)