Ultima Online - UOGamers: Demise
Hey, Hello Everyone! I'm Spok, from SpokLand.com!
I will add into this site my Journey into the game Ultima Online - UODemise as well as Information on the game, Guide and Tutorial to help other players!
UOG: Demise Events
TURKEYS!! PLEASE HELP!
Finish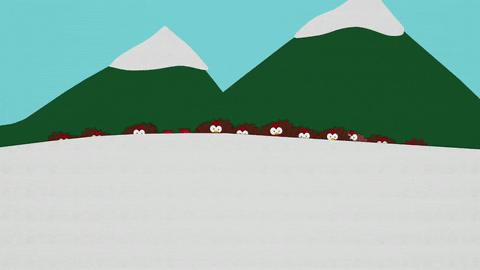 2022-11-24T22:17 to 2022-11-26T22:17
November 24th, 2022, 10:17 pm
We have received news from some concerned residents of Skara Brae
Strange looking turkey feathers and nests have been spotted in t...
Halloween 2022 (Act 3)
Finish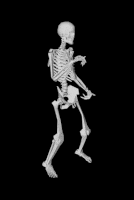 2022-11-06T19:00 to 2022-11-07T19:00
TRICK OR TREAT SCAVENGER HUNT:

MONDAY 7TH NOVEMBER 2022


We have decided to run an impromptu Scavenger Hunt. The hunt will begin at 12 am UTC and finish, either when all of ...
Halloween 2022 (Act 2)
Finish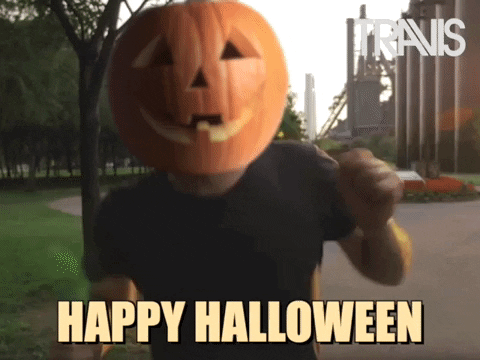 2022-10-21T22:54 to 2022-11-06T16:00
Halloween Town has been opened!

You had some Tricks and had some Treats.
Was all that candy way too sweet?

You've toiled in fields, for a pumpkin slice.
We hope you fou...
Halloween 2022 (Act 1)
Finish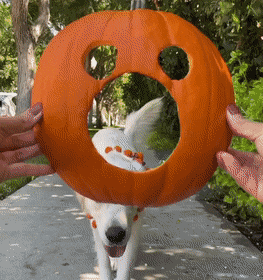 2022-10-14T20:20 to 2022-11-06T16:00
HALLOWEEN ACT 1

An orange gourd in a pointy hat.
A muddy field with a witches cat.
To forage and fumble to try your luck?
To turn and fight or run like fast?

Towns...
All UODemise Events
UOG: Demise Updates
January 14, 2022
Active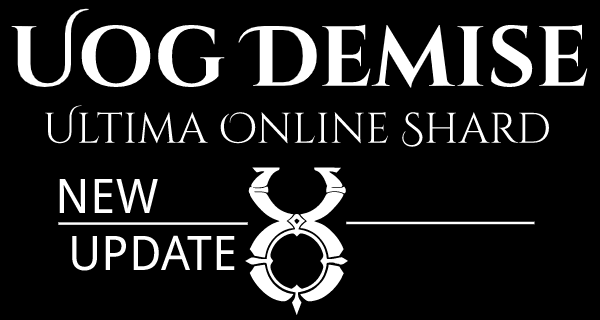 2022-01-14T19:53
We will be performing server maintenance tonight during the scheduled server restart. As a result, the server will take a bit longer to start back up. (It should be delayed no more than 30 minutes.)
June 25, 2021
Active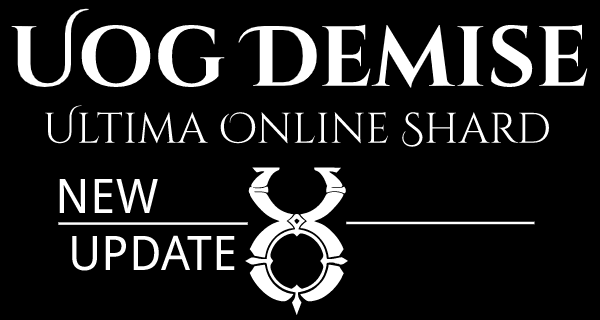 2021-06-25T21:08
The following changes have been made during tonight's server restart:

 -Weapon hit effects no longer go off when a hit is parried. (Bug report...
August 28, 2020
Active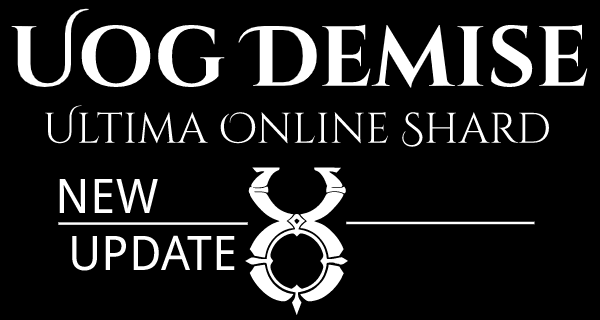 2020-08-28T12:00
The following changes will be made during tonight's server restart:

 - Monsters will no longer flee while they are being attacked. If a monster is not attacked for 6-10 seconds (random...
May 23, 2020 - House Decay
Active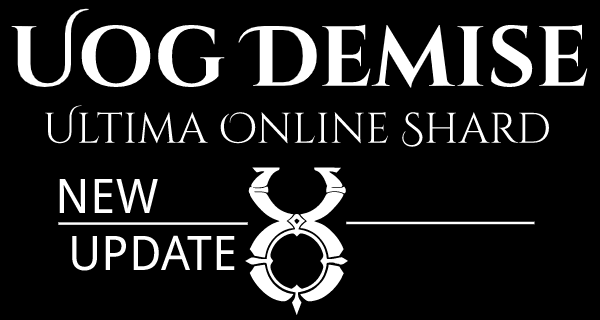 2020-05-23T12:00
House Decay

During the weekly server restart, house decay has been turned back on.

If your account is inactive (not logged into a character for 90 days), any house ...
All UODemise Updates
YouTube Channel
I have a YouTube Channel where I will store all my Videos on UOG: Demise!