Halloween Town - 2016 - A Mortician's Request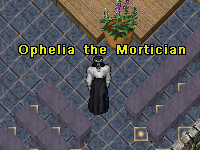 The NPC Quest Giver - Ophelia the Mortician offer the Quest - A Mortician's Request! She is located in the Main Area, inside the Church!
When you find her, Double Left Click on her to open the Quest Gump.
Quest - A Mortician's Request
Description
Dear traveller, welcome. Please stay a while. The dead are not going anywhere...
Nay? Perhaps I can interest thee in a matter of employment?
I require a certain ingredient for my alchemical studies. I would be willing to trade for my latest discovery, an item effecting stable polymorphy. What dost thou say?
Objective:
Obtain 5 Crystallized Essence
Reward:
Halloween costume
What To Do:
Ophelia request to obtain 5x Crystallized Essence! Go kill any Monster/Animal in the Main Area of Halloween Town, or inside Bosses Loot Corpses! Drop directly into your Character Backpack!
Complet:
When you have all the 5x Crystallized Essence, Single Left Click on your Character -> Click Toggle Quest Item -> Target 5x Crystallized Essence. (they will change color to orange)
Go back talk to Ophelia, Double Left Click on Ophelia the Mortician to deliver 5x Crystallized Essence -> Click Continue in the Gump Quest - A Mortician's Request to collect your reward!
List of Costume:
-
Skeleton
-
Gazer
- Bloodworm
-
Shadow Wyrm
- Dream Wraith
-
Centaur
- Cyclops
- Drake
- Ethereal Warrior
- Exodus Minion
-
Fire Elemental
-
Giant Pixie
-
Giant Toad
-
Gore Fiend
-
Lady of the Snow
- Maddening Horror
- Minotaur
-
Mongbat
-
Oni
- Ophidian Matriarch
- Ophidian Warrior
-
Pixie
-
Satyr
- Skittering Hopper
- Solen Warrior
- Terathan Warrior
-
Titan
- Void Wanderer
-
Wisp
- Wolf Spider
-
Zombie
-
Big Majik Flippers
- Orc Form
*
Bold
mean I see them in UODemise by myself of on other Players.
UOSteam Script - A Mortician's Request
Note: Single Right Click inside the Textarea, Single Left Click, Select All, Single Left Click, Copy
or Single Right Click inside The Textarea, CTRL+A, CTRL+C